Days Go By
What a lovely morning. The rain pouring down heavily, continuously, from dawn till mid-morning. The cool breeze blowing into the room. I sighed in contentment as I huddled in my blanket, lost in my dreams.
Now if I was still working, not only would I had to get up at such early hour, I would also be exposed to the elements and be sloshed silly. Heavy rain is fun when you're nicely tucked in bed, alright when you are in the comfort of your car (though the traffic may ruin things a bit), but absolutely sucks when you have to take the public transportation and get around where puddles form almost everywhere. And then I would have reached my workplace, feeling grumpy, doing work which I do not have much interest in for money I do not really need.
But I'm not working anymore. Muahahaha!
The whole month of nothingness has been really nice. The boredom got to me, at first. I was frustrated that I was not doing anything much. But slowly, I have learned to embrace the nothingness and now live in blissful, peaceful, emptiness. Living the existential lifestyle is not too bad. Temporarily, at least. I know I won't no longer be able to pull such nothingness off soon in the future, so I might as well enjoy it while I can.
As I fall deeper into my coccoon of anti-socialism which I had spun around myself, television became my replacement for human contact. Reality television, to be more precise.
My own life is now on 'Power-Save' mode and I'm now taking a keen interest in watching other people's lives unfold on television. Interesting, eh? :P
Rockstar: Supernova, Tommy Lee Goes To College, America's Next Top Model, Camp Jim, Tiara Girls, My Super Sweet Sixteen, The Hills...
I am a huge fan of American Idol, but gosh, it's so wimpy as compared to Rockstar:Supernova. I didn't follow the INXS installment but now I know why it was so successful. These rockers really pack a punch! There are so much more intensity and attitude in their performances and
it's awesome to see them rock out on stage. I think Dilana have the chops to front the band, but others like Storm Large and Patrice Pike are great, too. Hopefully I get to watch it in the UK too to find out who actually won.
Tommy Lee is damn
lawaks
. That's all I have to say about Tommy Lee Goes To College. He didn't actually enroll in the university. He just attended some classes and participated in several university activities. And you can tell that some things were done deliberately for the laughs. But it's damn funny anyway! It's on Channel V, by the way.
Camp Jim, Tiara Girls, My Super Sweet Sixteen, and The Hills are tv shows on MTV. Camp Jim is a cheerleading camp, which is quite interesting to watch. Tiara Girls shows the behind-the-scenes and preparation taken for teen beauty pageant contestants. Wow, it's not easy and cheap to win a pageant crown. A coach specialising in teaching contestants what and how to say things could actually cost US$100 per hour. And I guess a pageant is not for the meek - it's for ultra competitive chicks who go all out to win a pageant to make themselves happy. Hmmm.
But my favourite show which I love to hate would be My Super Sweet Sixteen. In this show, would-be 16-year-olds plan the party they will never forget. Which usually involves a lot of money. You get to see super self-indulgent kids spend serious amounts of money (which is probably enough to set up a foundation for scholarships for many, many people/ feed a 3rd world country for a year) just to celebrate their 16th birthday. Most of the time, when the decorations isn't to their liking, or something trivial goes wrong, the birthday girl would throw a tantrum/cry to daddy, which daddy will OF COURSE oblige and 'set things right' later. Gosh, how could these men let themselves be manipulated like that? One boy had P. Diddy gracing his party and Kanye West to perform at his party, which is of course, set in a happening club. One chick had her party at this 5-star hotel and received a black Mercedes Benz convertible AND a diamond-studded Rolex watch. Just for being alive and turning sixteen.
I love watching this show 'cos you get to diss all those spoilt brats on tv and feel smug and morally superior while you watch them throw their huge egos around. But of course, at the same time, you secretly wished that you were also as rich as them. Haih.
I remember, when I turned sixteen, I had to take the Physics test for my year-end exam. Haih.
Thank you, Mr Alexander Graham Bell, for making my short holiday filled with mindless entertainment. And now that the Ferrari Fight Back is more exciting than ever at this stage of the Formula 1 championship, I shalt not be separated from my beloved television unnecessarily before I leave.
A word of caution to those who would like to follow my current lifestyle, though: Bumming around enlarges the bum. Bummer.
Friday, July 21, 2006
Dreamin' / Happy Anniversary!
Now that the nights are boring and meaningless without 'live' football on the telly, I spend the wee hours of the morning doing what most normal people do: sleep. (of course, there are some who stay up playing online games like WoW, like someone I know, but these are a sub-species of their own whom I am in no position to write about because I really just don't get it. :P) And so I shall write about one of the recurrent topics I find myself writing about time and again: nocturnal dreams.
Everyone dreams in their REM stage of sleep but not everyone remembers them. I do. And I dream the weirdest dreams sometimes. Lately, I've been dreaming dreams that actually require thinking. Dreams that placed me in medical situations and its appropriate responses. Situations like drawing blood from a patient, taking sexual history from a female patient, performing PAP smear and identifying a Nabothian cyst... I haven't read any ObGyn-related stuff anytime lately, so that couldn't be it. Hmmm.
I think I'm ready to start school again. Yeah. :P
***
Today marks the one-year anniversary of the day I said goodbye to something. Last week was the one-year anniversary for that particular day when the sun shone on a rainy afternoon. ;) How do I feel about things now? Good. I feel good. Life is good. Thank God for all His blessings in my life. It was one of the best things that have happened to me.
"Life is a highway
I wanna ride it all night long..."
-
Rascal Flatts ,
Life Is A Highway
And so I have officially ran out of things to blog about. Until the next idea pops into my head, adieu. :p
Monday, July 10, 2006
'Til Another Four Years
Ahhh, what a wonderful World Cup tournament it had been. One whole month of world-class football, 24/7... a big thank you to Astro for providing such lovely service for the tournament. It has ended for less than a day and already I'm experiencing withdrawal symptoms. It cheered me up when I was having the working blues, and when I have already stopped working, it was something to look forward to. Now that it's over, I guess I just have to contend with watching repeat matches and slowly wean myself off football. And one match I kept watching again and again (and still not sick of it) was the 3rd place play-off, Germany vs Portugal...
And THAT, as far as I'm concerned, was my Finals. Fantastic, energetic play from both sides. Cristiano Ronaldo's theatrics was still loathsome to watch, but I suppose Portugal's own goal during the second half was karma for all the nonsense they've presented throughout the tournament... so everything kinda worked out fine! :D And the goals by Schweinsteiger were just beautiful. Germany opened the tournament with a brilliant goal by Lahm against Costa Rica, and they ended on a high note with Schweinsteiger's. A great ending by a great team. Such a fun team to watch. And the fact that the coach was damn fine is an added bonus. ;) I hope he stays on with the team... they've only just begun and only him can continue carrying the momentum to reach greater heights.
I really like the Klose-Podolski pairing, but my favourite player in the team would be Lahm. The shortest dude in the team, he is ever so consistent as a winger and is definitely a player the team could rely on. I would want to play like him. Yes, my footie days are not completely over yet. I intend to play footie still in the UK. ;)
The jubilation and celebration after their convincing 3-1 victory over Portugal was lovely. Oh how I wished I was in Stuttgart then to soak up the atmosphere and watch the fireworks display (and maybe bump into Michael Schumacher, hehe... or better still, Klinsmann! ;P) ...
As for the real Finals, it had more drama than goals. Despite each side having a goal each during the 1st half, somehow I thought it wasn't exciting enough for a Finals match. Plus, the prolonged injury time for those injured players were kinda disrupting the flow.
Things changed for the better during the second half. Both upped their pace and France was looking pretty strong. But still no goals... and it went on to extra time.
Obviously, Italy's Materazzi provoked Zidane into what will be known around the world as 'Zidane's Moment of Madness'... but it's still no excuse for his disgraceful behaviour. I thought Rooney's sent off was stupid enough, but this just takes the cake. That famous shaven head known for his headers decided to head another person instead of the ball. Stupid goat. Of all occasions, it was his farewell match, in the World Cup finals, that he chose to not control his temper. For a football genius, he's not very bright, is he? What a selfish, dumb prick. How could he leave 10 men on the pitch to fight for such a great cause? Captain,
konon
.
Penalty shootouts is not my favourite way to decide a winning team. But I'm glad Italy won anyway, 'cos it meant that Germany only lost to the eventual champions, which is not bad at all. ;)
And thus ended World Cup Germany 2006. Sigh. :)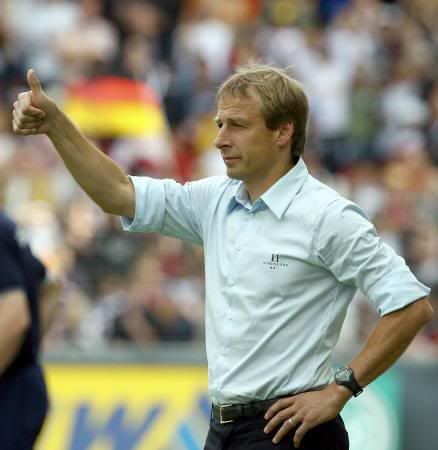 Oh, Klinsmann, you set my heart aflutter... :P
Saturday, July 08, 2006
The Past In The Present
You know how certain songs can trigger some hidden memories? The melody of a song transports you to a time, a mood, a thought... a memory. Guess what. So can books.
I was at the local book rental store, and I walked passed these shelves of books. The Sweet Valley franchise. Sweet Valley Twins, Sweet Valley High, Sweet Valley Kids... I read them all (well, almost). I remember waiting for the latest book in the series to read. It was a commodity- my classmates and I would trade with each other's different 'episodes'. So anyway, I was thumbing through these books with unrealistic plots which were fun to read, and the ridiculously huge fonts just hit me! Omigosh, they were printed in font...14? Now, that's what I call light reading!
They brought back fond memories of my primary school days. How my friends and I would talk about Elizabeth and Jessica Wakefield and their fictitious lives. It was fun. Pre-teen/teen books nowadays are a bit too... thrashy for my liking. But then again, times have changed. The books we have now merely reflect our current teen situation. Not so wholesome anymore, unfortunately.
The Sweet Valley series has been discontinued. Well, there are only so many escapades a pair of blonde twins could get into, I suppose. But thank you for creating this world of Sweet Valley, Ms. Francine Pascal. The fans had a good time. :)
Speaking of the past, I met up with my two of my ex-schoolmates. I must admit that keeping in touch isn't my strongest point. So far, I've only successfully kept in touch with a handful of people. But you know what? Even after years of not seeing each other, things weren't awkward at all. How cool is that? I'm glad that the friendship stood the test of time, and it made me realise that I should put in more effort in keeping in touch. Especially since I'll be leaving soon.
Flashbacks from the past are becoming more frequent. The most random memories would appear at the weirdest moments. Random memories of my A-Levels days, and the Phase I reminiscences... I think it could be my subconscious trying to preserve my memories of here before leaving. I cannot think of other explanation.
Better to reconcile with the past first before heading to the future.
Wednesday, July 05, 2006
Heartbroken
I thought Germany would lift the Cup. I was hoping that they would win. But I guess it just was not meant to be.
1st half was quite nervous to watch. Germany was defending too much for my liking. Then 2nd half came along, and Germany attacked a lot more. It was great to watch, yet no goals scored. Missed chances, they were. I call it the Lampard curse.
The play went into extra time. The Italians nearly scored, the ball just hitting the cross bar. Still I held on to my faith, and hoped that Germany would rise to the occasion. A great chance came along, and Podolski headed the ball... away from the goal.
That squandered goal was almost as painful to watch as when Peter Crouch kicked the ball into the orbit despite the goal being right in front of him and he was not being pressured by any defenders, in England's match against Trinidad & Tobago.
Minutes before the end of extra time, I thought it would go into another penalty shootout. That did not materialise, however. At the dying minutes, the Italians converted yet another corner to a superb goal, I must admit. The way the ball curved into the goal... what's-his-name really did a great job. The Germans' morale was shattered, and tried to recover, but Del Piero added salt to the wound by netting another brilliant goal within 2 minutes.
Germany's World Cup dream was over. And fans around the world mourn.
Props for Italy. They were actually the better team on the pitch. Despite the horrible play actors here and there within the team (Totti is an ass), Italy played very well. The Italian defence did not give the Germans much space to score. And their strikers took a whole lot more chances than the German side. Germany has done very well in this World Cup, indeed, and the team has no reason to be ashamed. They just lost to a better team, simple as that.
Wow... I haven't got emo over a football team since... France '98, when England was sent home by Argentina. But England's departure this time didn't upset me as much anymore; you kinda get used to it, you know? In Japan/S. Korea '02, I remember Germany playing a very boring finals against Brazil. I wasn't even planning to support Germany this time, until I saw Lahm scoring the very first goal of the tournament. One thing I noticed about Germany is that although they have big names, they've always played as a team, and that's what makes wonderful football. I never liked the whole 4-5-1 concept - the feed-the-ball-to-the-lone-striker concept as England adopted. Sven Goran Eriksson is an idiot. But then he was short on strikers. Well, he's still an idiot, nevertheless. But I digress. :P
Well, if I, a Malaysian girl, could feel sad over their loss, imagine the Germans. Or the German players themselves. How does it feel to not deliver your promise, and to shatter the hopes and dreams of your country who have counted on you so much? Not good. But that's football, and that's life.
I hope Juergen Klinsmann stays on as their coach, though. Hopefully the Germans will get to avenge this loss in Euro 2008... and I can still see my favourite coach on tv, haha! :P
I'm gonna watch the 3rd place playoff, of course, and will continue to root for Germany. As for the finals, I don't really give a damn now. As long as Portugal doesn't win the World Cup.
May Zizou & co. kick Portugal's ass later.
Monday, July 03, 2006
The Beginning of The End
It feels great to not have to wake up before daybreak on a weekday. Yes, work is officially over. How would I rate the experience? Hmmm. It was alright. Definitely an eye-opening experience. I have learned quite a bit from this working stint, not entirely academic. But it's time to move on. And watch the rest of the World Cup matches...
Oh England! The moment Roo was sent off, I had a terrible feeling that it might be a repeat of France '98. And it was. You deserved to get through to the semi-finals, despite your uninspiring show in the tournament so far, as compared to the filthy team of play-actors also known as Portugal. There were so many chances, all missed. Did you offend anyone before leaving for Germany, Lampard? I thought you would make my dream come true that early Sunday morning...
But of course, Sven Goran Eriksson could only be so lucky. What a clueless git. Oh well. There's no use crying over spilt milk.
I could only sing this song...
"It's coming home
It's coming home
It's coming
Football's coming home
Everyone seems to know the score
They've seen it all before
They just know
They're so sure
That England's gonna throw it away
(yep, they just did)

Gonna blow it away
But I know they can play
'Cause I remember...
Three Lions on a shirt
Jules Rimet still gleaming
Thirty years of hurt
Never stopped me dreaming
So many jokes, so many sneers
But all those oh-so-nears
(is that another shot at the goal, Lampard?)
Wear you down
Through the years
But I still see that tackle by Moore
And when Lineker scored
Bobby belting the ball
And Nobby Dancing
Three Lions on a shirt
Jules Rimet still gleaming
Thirty years of hurt
Never stopped me dreaming..."
--
Three Lions
, Lightning Seeds & Baddiel & Skinner
The Germany vs Argentina match, on the other hand, was absolutely lovely. Germany was defending more than I liked them to, but hey, they never gave up (even though I almost did). Klose's header was just brilliant and re-energized the team, which was great to watch.
Argentina deserved to get through as well. Better Argentina than Portugal. But I guess it's fated that Argentina couldn't kick penalties for nuts like my other favourite team. Anyway, another reason why Germany deserved to go through the semi-finals: they played with heart. It was obvious that the Germans wanted to win more. And because of that, I know that they will go all the way and lift the trophy.
I am also happy that Germany won because this means I still get to see their oh-so-fit coach Juergen Klinsmann on tv. Hehehe. He's damn hot. Hehehe. :P
Schumi completed the German power display weekend by winning the US GP in Indianapolis. And the German national anthem plays on! Muahahaha.
So how did I spend my first day of break today? I attempted to study. Yes, the word is attempt because I think I tried to read too much at one go and now I think my brain has blown a fuse. :P Will try again tomorrow- this time, bit by bit.
Two more months...