Deodorant Overload
Yesterday, the girls and I went to play at the 3R-Rexona All-Women Futsal Tournament at Sports Planet Sunway. Who were the girls? The Roommate (TR) as the Goalkeeper, Shuj, SNing, Prem aka The Rock ;), Sal from Sem 5, Sunila the Gila Striker from Sem 5 and cute lil Diana, our international player from Nigeria who's in Sem 1. And of course, yours truly. Capt'n KLin couldn't play because she had a dental appointment in the morning (bah!) and Foxxy Naddy didn't take part because she had something on later that day. Plus she didn't wanna injure herself. Smart girl. :P The other regulars can't make it because of some reason or another. Our manager was none other than our coachie, Bruce, although Foxxy insists that she is the 'manager' too.
It was a last minute decision to enter because no one was really into it. Most of us were okay about entering but no one actually did anything. I was compelled to enter us when I read about it in the papers a day before the last of registration. The tournament was for charity, and not just any charity organisations but those which promote women empowerment and AIDS awareness - WAO (Women's Action Organisation), AWAM (can't remember what it stands for but it's a women's org too) and MAC (Malaysian AIDS Council). Since we would be free on Saturday, and the club has money to spend, and the money's going to all these charities, heck, why not?!!? It would also be a good exposure to us.
After the humiliating defeats we suffered in the Pharmaton tourney last year, we were quite apprehensive about this. After all, it was a paying, open tournament. Most of the teams would be really good, ie professional standard. We expected to be thrashed again. Which was why I kept telling everyone this: "Self preservation is our motto! The Ball is in 3 weeks' time!!" There will be many she-males around who have no qualms of injuring anyone and we must take precautions.
Fortunately though, things didn't turn out as bad as expected. In fact, it was really fun!
We won 2 matches, drew 2 matches and lost 2 matches.
We beat Help Institute (as predicted during the group drawing, kekeke) and Pancit Utd (what a name) 3-1.
We drew with Crony FC (0-0) and Ca Ca Marba (1-1).
We lost to Jujubabes B and Wildcats II 2-0. These two teams were the top 2 in our group who proceeded to the next round. They were really good. I'm glad that they beat us at just 2-0 and not more (they scored more goals with other teams and drew with each other).
Notice that the goal differences are always 2. We beat others with 2 goals, we get beaten by 2 as well.
We could have actually won the matches that we drew at, but I guess we weren't so lucky. BUT we were lucky enough to be in an okay group, away from the scary girls of Blades FC who thrashed us 12-0 last time and did the same thing to the teams unfortunate enough to be in the same group yesterday. :D
Overall placing in the group: 4 th out of 7 teams. Not bad
leh
?
Goalie was worrying for nothing before the day cos she made many brilliant saves yesterday. Prem, as usual, was in her great defending element. She even scored a spectacular goal and almost scored another! Sunila, being a Gila Striker, was of course, good. We all played well yesterday with great teamwork going on. But most importantly, we were quite cheerful and in high spirits and had lots of fun!
Looking forward to entering another futsal competition together. :)
Special thanks to Small Siao and Hiong Chin (this fella provided the 'entertainment' of the day. Haih. :P) for being willing to drive the team early in the morning to Sports Planet and staying to support us (or rather, to check out the gals). Also many thanks to the supporters who came: CK, Naddy 'the Manager', JHoong, Capt'n KLin, Ken J, Faiz, Rassam, Rizal, Azri, Collin, Rizal and Sal's parents.
Xie xie ni men!!
BTW, for those wondering about the title of this post, our lone goody bag consists of A LOT of Rexona deodorant sample bottles. Ta daa!
Sunday, March 06, 2005
Sundays with Michael & Co.
Sundays have different significance to different people. For my Christian friends, it is the day to go to church to praise and worship God in His house. For my working friends, it signals the last day of relax and enjoyment before another long week at work. For my parents, well, not much of a difference 'cos they practically
lepak
everyday (dad's retired, mum's a housewife). Except maybe to check the
nombor ekor
to see if we have become millionaires overnight.
As for me, Sunday has no religious significance to me but there is something that keeps me glued to the television for 2 hours almost every fortnight religiously. It involves 20 fast cars, speeding round and round a race track more than 50 times.
Formula 1, 2005 season has officially begun. And I am happy. I've missed my
boys
men. Now my Sundays have meaning again. :)
My favourite boys are back!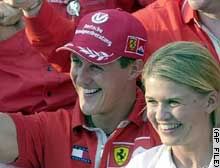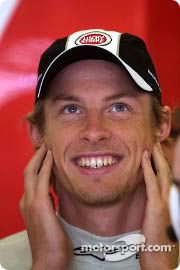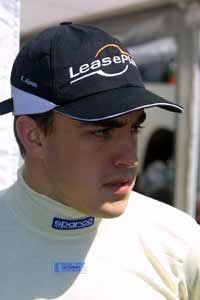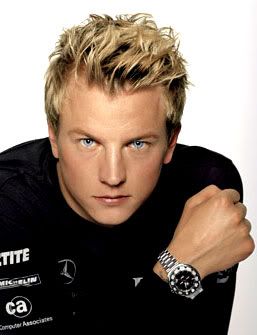 (L-R: TOP-Michael Schumacher, Ferrari; MIDDLE- Jenson Button, BAR Honda; Fernando Alonso, Renault; BOTTOM-Kimi Raikkonen, McLaren-Mercedes)
P/S- Fisichella just won the Australian GP. It was a Renault 1-3 finish. Barrichello was in 2nd place. My Schumi didn't even finish the race. It's going to be an interesting season, indeed. ;)
Thursday, March 03, 2005
Claire The Loon
It's funny how music could invoke emotions buried deep within ourselves. How certain words and/or a simple melody could just lift your spirits... or make you weep like a baby. But when a person is a feeling down, and has dark clouds swirling about in his/her, it's almost magical how a beautifully arranged musical notes could help cast some light in that darkness.
Ever heard of Debussy's
Claire de Lune
? I'm no classical music connoisseur, but this is quite a famous piece that's always included in classical music compilations. :P Anyway, I was thinking through some stuff the other night, and I was feeling pretty melancholic. And slowly getting depressed. Teetering on the edge bitterness. And suddenly this hauntingly simple, sweet melody popped into my head, mysteriously triggered. I heard it clearly as though someone was playing it on the piano next to where I was.
I've heard it many times before and I've always liked it. It was... nice. But that particular night, while I was remembering the melody, I was moved by how beautiful it was. I could almost see the clear moon, with its reflection on the calm surface of a lake, in the dark night sky. It was also a reflection of calmness and peace.
All this time I had listened to it, I guess I never listened properly. Or perhaps it just was not the right time.
And I realised that life ain't so bad after all.