Foxes Unleashed
For The Love Of The Game


Imagine a bunch of girls, playing futsal religiously almost every week, paying money to run and kick a ball around. Each session lasting 2 hours, with lots of lepak-ing done together after each session at the mamak/kopitiam. For two years.

Some say we are an extremely kiasu bunch, training so early on to ensure victory in the Cup. But who are we kidding? If we do not enjoy each others' company nor the sport itself, we wouldn't even bother to meet up to play at all.

Throughout these 2 years, we have grown so much, in terms of our bond and our skills. We have experienced different tournaments together, each with its unique memories- thrashed by She-Males (Pharmaton), earned the rep as the most good-looking team (Rexona), shaming our clinical school counterparts (Goodwill Games), winning 2nd and 3rd places among other private unis/colleges (MAPCU). Together, we made futsal an integral part of our lives. Something we shall always cherish and remember from our uni days.

For this year's IMU Cup, it wasn't just about winning anymore; it was also a celebration of friendship.

Date: September 22, 2005

We were nervous, despite all of our experiences behind us. We wanted to win so badly, to leave the uni's futsal scene on a high note. Capt'n Maosix gave an empowering speech on how we should inspire each other on the court to perform our best. I had this idea of winning with style and class- it was a known fact we had the overall best skills and best teamwork in the school. We would show the juniors how this sport is ought to be played.

Thunders rolled in the background that afternoon. It always rains on Female Futsal day.

"

Hahahaha. Yes we are going to win today. We are going to win." - Capt'n Maosix, 2.02pm

Warming Up... and then Some More

After 2 hours of lecture, it was off to the futsal courts. Sheena was bouncing off the walls with nervousness ("I want chocolate, I want chocolate, must go buy chocolate..."). The rest were quietly nervous, butterflies flying in their stomachs. As for me, I was nervous too, but there was also a calmness in me. It was either that or I was still stoned from HA's Cranial Nerves lecture. :P We arrived there at 7pm and warmed-up at the parking lot area. Our first match was due at 8pm. Or so we thought.

First match was against Sem 4. They were 15 minutes late. The quiet calmness in me gave way to "I'm gonna kick your ass as well as the ball" kinda anger. Such tardiness. Their match was supposed to be forfeited as a rule, giving us a walkover win of 3-0. But we decided to play anyway because the Cup was about goodwill and sportsmanship among batches. However, looking back, perhaps the walkover was probably a better choice for the Sem 4s...

..

. For we thrashed them 6-0. Again. As usual, our starting match was in scatters. Positioning was a bit off. But so what? Capt'n Maosix and Ning still celebrated like crazy after each goals. :) They were on fire. After 5 minutes playing, my anger gave way to laughter. The sixth goal was a bit of a sham though, the goal let in by the Sem 4 goalkeeper herself. It was quite a painful watch. Oh well. They should have practiced more, I suppose.

Sem 5 vs Sem 4: 6 - 0

Getting ready for a bit of rugby

Our next group match was against the Sem 3s, notorious for their contact game-play. We were ready to play a physical match. As Chee Wing advised, "If they play physical, you guys play physical too."

They were aggressive but as I mentioned before in my post "Smells Like Team Spirit" last year, aggression is no substitute for skills. During this match, they scored 2 goals against us (funnily, by the only non-aggressive player in the team) but we were never afraid of losing. We never lost the lead at any point. Capt'n Maosix have already ingrained in us the importance of recovering from our slip-ups quickly and move on, and I feel that it was one of our strengths - our positive attitudes and mental strength. There's also a dose of cockiness, I must admit, hehe, but I'd rather call it candour. We ARE undoubtedly the better team. BTW, Capt'n Maosix and a few others sustained nasty bruises on their ARMS (futsal is played with LEGS, for goodness sake) from this match. Grrrr.

"The Sem 5s could be beaten after all." - one of the Sem 3s.

Oh really? Didn't see that happening.

Sem 5 vs Sem 3: 4 - 2

Surprise, surprise!

It was no surprise that we were in the semis. If we weren't, something would have to be seriously wrong. Prior to this match, Capt'n Maosix suddenly requested for me to dorsiflex her right foot. Uh oh. Not good. But she insisted that she was fine.

The Sem 1 girls only got together to play the day before for an hour for the first time. Yet, despite this information, we didn't underestimate them because they could spring up some surprises. And they sure did. What they lacked in experience, they made up with two Singapore national players with super stamina. They ran up and down without tiring and because they were sports people, they somehow knew how to position themselves. I was huffing and puffing trying to keep up with them. Though my stamina has definitely improved from last year, it was no match with theirs. My passes became clearances. I was glad I was taken out when I was.

Capt'n Maosix had a terrible fall during the first half of the match. Her feet seized up and she was in agonizing pain. It was bad seeing her in that condition. :(

Our second goal against Sem 1 was memorable. Ning converted a free kick. It was a beautiful one. :)

Sem 5 vs Sem 1: 2 - 0

A Test of Trust, Belief and Faith

There was a break in between the Semis and the Finals. Capt'n Maosix was still in pain. It was funny to see her being whisked off to an airier place by Aravindra ala newlyweds :P, but it was heartbreaking to see her that way. We were to meet Sem 2 in the Finals, as expected. But our captain, the most psychotic one bent on winning and our main goal scorer, was down. It was disheartening to see her immobilized by pain. But it also strengthened our resolve - we will win the gold for her.

Semester 2 was undeniably strong. A team of five with three superstars (one, incidentally a potty-mouth who cusses the ball as well. Lawaks. :P) and a disposable defender, they posed the biggest threat to us. They are known to take shots from the midline. However, futsal is a team sport, not a game of individual skills. And we would soon demonstrate that fact to them.

Priya scored the winning goal early in the match. Woo hoo! It was clear that although the superstars were good, they were tired. They were taking shots that were completely off target and the potty-mouth was on a roll, haha! It was hilarious watching her launching a tirade on an inanimate object. Our Pokok, instead of remaining static like her name ("I malas nak lari"- her favourite phrase during practice) ran absolutely everywhere, trying hard to score another goal for us.

I entered in the second half and my job was to guard one of the superstars. I'm proud to say that I did quite a good job. I only managed to have contact with the ball four times during the game, but this also meant that she couldn't get the ball either. My lil crab dance has served its purpose. :D

I don't recall being tensed during that particular match, just intensely focused. But I could understand why the crowd of supporters were. Looking back at the video of the match, things certainly looked scary.

Cartoon moment of the match: Terreh landing on me and everybody else. Thank goodness Shuj wasn't underneath her and cleared the ball away. Thank goodness we could laugh about it now. Had the ball rolled in...But it didn't. :)

We defended to the max after the first goal. That was our strategy. And it worked.

"Ken Lin, we will win it for you!!!" - her emo friends

And we did.


Sem 5 vs Sem 1: 1 - 0


Victory is Ours

It felt like the longest match ever. And actually, it was. The match went on 5 minutes longer than it should because the timekeeper basically forgot about the time (Geez...). When the referee blew the whistle, that was it.

Last year, there was a rush of euphoria. We were just ecstatic to win the gold. But this time, the celebrations were more subdued. We were happy, but in a more... grown-up manner, I suppose. We wanted to defend our title and we went out to do just that. A quiet sense of satisfaction of a job well-done. Our final tournament together, as a team. We played our hearts out and it showed. I will always remember our fighting team spirit.

"Who is the best? M-2-0-3!!!!"

We Were Never Alone

There was no Red Sea this year but nevertheless the supporters definitely made their presence felt. Cheering and clapping loudly, jumping up and down the wooden platforms, grabbing and tugging the nets like madmen... you guys definitely gave us energy to play that night. Thank you for sacrificing your studying time to lend us your strength and courage. We truly appreciate it.

As for our coaches, oh my, how can we ever thank you guys enough? All the time and effort spent on training us... we would never have reached this level if it weren't for you guys. A very huge thank you to:

Soon Liang - For believing in us since the very beginning, even though we were so crappy then. You taught us the basics, which are the most important part of anything. Your dedication and patience have helped us grow. Thank you.

Ken Jay - You made us think, and that became one of our strengths. You have a way of pointing out our mistakes- we never felt offended or stupid by your feedback. Instead we felt like laughing at ourselves and at the same time, be more aware of our actions on the pitch, thus, enabling us to improve. Thank you.

Jeremy - You taught us skills like headers and volleys. I still remember KKB. :) These skills definitely came in handy. Our team did the most headers that night. :P Also the trainings using the orange cones.. Thank you.

Faiz - Coach Garang, you stepped up our training to the next level. Your crazy stamina-building exercises were torturous, but definitely beneficial. Your teachings on passing and playing the game were invaluable. Your passion for the game and our team was inspiring. Thank you.

We've Come A Long, Long Way Together

There was a time when we couldn't kick the ball straight. Heck, we couldn't even kick the ball properly then. There was a time when we would pancit just after 20 minutes. There was a time we would run around the pitch like chickens, chasing the ball. There was a time when we hadn't imagined that we would be the school champions.

This gold was much more personal to me this time, for there was also a time when I thought I would not be able to play for the Cup this year.

We have come a full circle, from us completely relying on Ken Lin alone to carry the team back in Semester 1, to her completely putting her faith on us to carry the team to the gold medal in Semester 5. An apt ending to a glorious 2 1/2 years together.

We've come a long, long way together
Through the hard times and the good.
I have to celebrate you baby,

I have to praise you like I should.

-- Fatboy Slim, Praise You

Especially dedicated to my teammates Svelte, Maosix, Terreh, Pokok, Ning, DSY, Shuj, GC, Priya and other members of the club who have brought much fun and enthusiasm to the sport such as Elena and Aiesha.

I've had the time of my life. Thank you for the memories.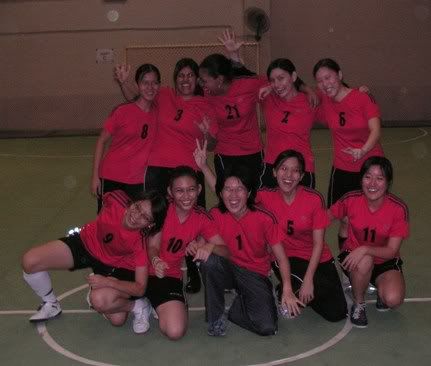 The Psychotic Pack of Red Foxes
Above (L-R): Shuj, Terreh, Priya, Yangon, GC
Bottom (L-R): Maosix, Pokok, Svelte, DSY, Ning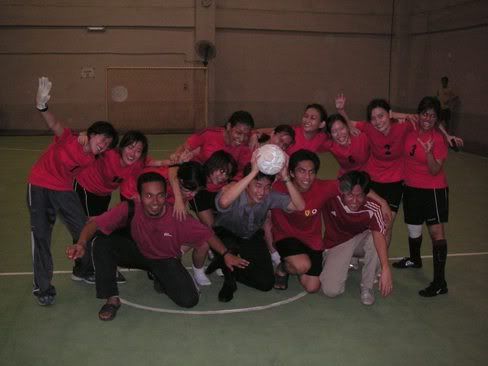 Coaches (L-R): Faiz, Soon Liang, Jeremy, Ken Jay
Saturday, September 17, 2005
Win, Lose or Draw
Winning is always fun. It feels great to be on the jubilant side.
Our Sem 5 boys beat the crap out of the Sem 1 boys in football last week, 8-1. They weren't even at their best. That felt good. :) Congrats, guys!
IMU A and IMU B won their first round meets of Physio Quiz at UM last week too. Both teams gave a great fight in the 2nd round, against the eventual champions and 2nd runner up. We all could answer most of the questions in the Finals. That felt good too. :) Congrats to all of us.
Although losing may feel sore sometimes, I don't mind losing in certain things. For example, in a game of Taboo. Especially if you are paired with Prem. How 'Nanyang Technology University' is guessed as 'University of Soya Sauce' is just amazing. :P Games like these are worth losing, just for the whole funny and memorable experience. :)
Our girls futsal team won gold last year. We want to win gold again. I hope we will. But whatever the outcome is, let's make this last IMU Cup experience a pleasant one and give the other teams a heck of a fight. This is the last time we'll all play together in an official tournament as a team. Make it a spank-tastic one, girls. ;)
Sunday, September 04, 2005
Roll of The Dice
Life is a game of odds. Of all the permutations of various outcomes in life, one inevitably takes place. The clock ticks on, and everything falls into place. Slowly but surely. Some expected, some not. In a strange design of ordered chaos, everything that must happen, happens. Cause and effect. Inevitability.
What are the chances of a man being struck by lighting?
What are the chances of being run down by a drunk driver?
What are the chances of winning the lottery?
What are the chances of surviving a plane crash on a mysterious island?
Mere statistics?
Circumstances do occur against the odds. But how likely is that?
Certain things require a leap of courage. Some, a leap of faith. In the end, it all boils down to the roll of the dice by the hands of God.
"Luck, be a lady tonight."