Open Doors
When I study, I run away with my imagination in between studying sometimes. It's a healthy way to cope with stress, I suppose.
Recently, I've been thinking a lot about the future. I'm not surprised 'cos now that I know where exactly I'll be this time next year, my daydreams now have more... substance? to them. But lately, it hasn't just been confined to just the usual UK dreams, but it has crossed continents as well.
It just hit me that the world is there for me, waiting to be explored. That there are so many different experiences out there, waiting to be lived. Why limit myself to anything? Why limit myself at all?
Time to make plans. But not now. Now, must concentrate on studying for EoS exams first.
SIGH.
Saturday, October 29, 2005
A Contract
I, YK Chan, solemnly promise to not log on to MSN Messenger at all from today onwards until December 15, 2005 and not engage in the time-wasting activity otherwise known as idle chatting. No matter how stressed out I might get, I will find other ways to chill instead of talking shit online. Should I break this promise with myself, I will bar myself from watching the season finale of Laguna Beach Season 2 before December 15, 2005. A terrible punishment, indeed.
Signed by YK Chan.
Witnessed by the readers of this blog.
P/S- I love Elton John. Muahahaha.
Sunday, October 23, 2005
Against The Odds
So far this year, every significant drama/event that happened to me, it happened against the odds. What was expected to happen, whatever which had greater probability of happening statistically... did not happen. So when it comes to the Partner Medical School (PMS) Matching result, the same rule should apply. But not in the way I thought it would work.
My first choice was a long shot. The university ranks the students according to academic achievements alone. My results are good, but not outstanding. Plus, the class's top students were competing for the places as well. But maybe... just maybe... I might get a place. You know, against the odds? :P
Choice number two was a safer bet. Nobody ranked it first. And among those who ranked it second, I felt that I was more competitive (as compared to the long shot 1st choice).
The other universities ranked from #3 onwards did not seem likely as a lot of people have ranked them 1st or 2nd, and they have competitive grades as well.
So, mathematically speaking, I should get uni #2.
"God, I really have no idea where I'm going. But wherever I get, please help me be happy with it and accept the path You have chosen for me."
(the night before the matching results were out.)
Result:
I got into uni #3.
When I first saw the words, I was afraid. I was very afraid. Because TR wanted to go there so badly. She ranked it 1st and was dreaming about the place since A-Levels. If I had taken a seat away from her...
*shudder*
But it turns out that it was God's plan that we were supposed to go there together and I couldn't ask for a better future house/roommate there. :)
The other two housemates are going to attend the same unis as well. How uncanny is that?!!?
My thoughts on the uni itself:
Well, my top three choices were deliberately chosen for their happy, cheerful environment and lifestyle. The best part about uni #3 is that I get to save money on winter clothing (very important as I almost froze to death in Genting) and thus, have more money for travelling! Yay! And the more I think about it, the more I realise that I was actually meant to go to there. :)
It's gonna be painful, separating with my best friends, each on opposite ends of the Earth and the Equator. But it's okay 'cos we'll be friends forever. :)
What my experiences this year have thought me is that the next WEEK can be very unpredictable, let alone next year. But I'm hopeful and optimistic. And one can never go wrong with that.
Against the odds, eh? ;)
Sunday, October 09, 2005
I Can't Deny The Fact That You Like Me! You Like Me!
"I went over to Yee Sin's place to settle some squash stuff. His place was full of cheerleading materials." (Ken Lin's explanation for glitter on her face)
"Hey, I need to go back to pass something to Ivy for a while."
"Oh, look who I bumped into at the lobby? Ken Lin!"
"Me as usual-
lah.
The two I dunno." (to my question, "Hey, where are you guys?")
"I went to settle my income tax stuff." (what Ken supposedly did on Friday afternoon)
"I want to go eat
mamak
in Subang!" (Prem's sudden weird craving)
Oh, the lies! The yarn they spun! Such fibs! But the worst part... I actually fell for each and everyone of them! And I did not suspect a thing. Not a word!
I went home on Friday night with Ken Lin and Prem. Prem supposedly desperately needed to empty her bladder so she entered the house first. After a while, she didn't come down. I thought she got lost in my room or something (I wouldn't put it past her :P). So I went up to my room, and found this...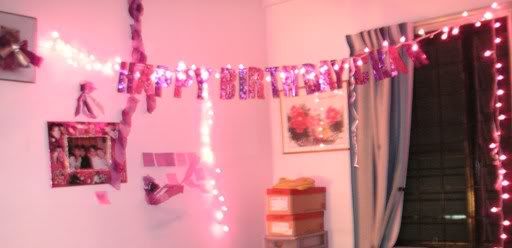 I was just stunned.
#1- It wasn't my birthday yet.
#2- I would expect them to do something at my Jalil Hill place, but definitely not here.
It was so beautiful. Purple and pink, such pretty colours. There were Post-It notes everywhere. On them were messages from my batchmates. And the homemade picture frames with various cut-outs were so lovely. The purple lights were so pretty (very nice to stone in :P).
I was speechless for a while. And then I cried. :P
Did you notice the "HAPPY BIRTHDAY CHAN" hanging across the room? It wasn't bought but
manually cut, each and every letter
. The glitter was manually applied on the letters and the picture frames. The streamers and crepe roses were hand-crafted as well.
They spent
4 hours
on a
hot
Friday afternoon- in a
non air-conditioned
room, where the
fan was not switched on
as well because the papers would fly away- decorating the room. Prior to that, they spent time cutting the decos and pics and applying glitter...
They spent more than 7 hours +++ working on this surprise instead of studying for NS and EoS!!!!!
This surprise meant a lot on that Friday, cos earlier that week, I was experiencing psycho mood swings and was getting upset and emo over the silliest things. I was afraid that it might affect our friendships... and then they sprang up with this.
My warmest thanks to (in no particular order) Sheena, Ken Lin, Prem and Nadia, for doing this for me. I'll never forget it. Especially since I've taken many photographs in various lightings ala CSI to document the night. :) You guys rock to the max and
know
that I love you all very, very much, okay?
As for those who wrote messages for me, thank you. They are treasured. I'll be keeping them in my diary. :)
Thank you for loving me.
And thank You, God, for Your blessings in life.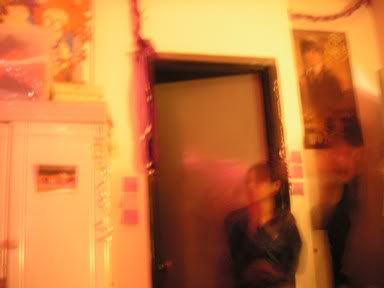 "Sini tak ada Ah Mooi!" :P

*** for those who don't get the meaning of the title, it was a part of actress Sally Field's Oscar acceptance speech. ;)