Endurance Test
Hey, check this out:

They are the Wolong Clan in San Diego zoo. Aren't they the cutest thing? A whole family of pandas. Do you see me there? I'm the one on the furthest right (the fattest one). Look properly.
Yes, I have morphed into a panda. All the stress and fitful sleep had taken a toll on my youthful good looks. I now have perpetual dark rings under my eyes. If you don't look at me properly, you might think that I'm a stowaway from California. Or China, for that matter.
This End of Semester exams is now a test of endurance. Sometimes I feel like collapsing and never getting up again. But I tell myself to plod on, and to have faith...
No, I'm not gonna give up. Not now. I want to reach my goal. I want it so badly. There's only two weeks left. I can make it. I know I can.
Wanna win it, wanna score.
All the best to everyone. We are all in this together, and we are going to do well. Together.
"But you be strong and do not lose courage, for there is reward for your work." - 2 Chronicles 15:7
Friday, November 18, 2005
Frustrated Inc. / Tagged!
Time and myself have always had a love-hate relationship. Too much of it, I take it for granted and waste it away. This would then lead to resentment, as I would be thinking of various activities I would love to do with my time, but could not due to various constraints. I'll then end up depressed for a while.
These days, time has been very precious to me. I've been trying to hoard all the time to myself, but at the same time, I'm not. This is what exams could do to a person. So little time, so much to cover... But all the studying is slowly driving me crazy...
Times like these, I do not like to waste time. So imagine my frustration when HOURS were spent on a particular activity which I do not find particularly beneficial to myself. I'm beginning to hate it now, the way I used to hate it last time because it made me feel stupid. And I hate wasting time especially when there's so little to go around now.
Or maybe I'm just too tired.
I'm tired of being tired.
***
Anyway, I got tagged by Elena! Oooh, my first time being tagged! How exciting! Hehehe...
1. Total number of books you own

Hmm... A LOT, counting all my Enid Blyton books of my childhood and Sweet Valley Twins series, hehehe. Definitely not as many as Elena's collection, but not too bad either. Kid lit rocks!
2. The last book you bought

Oooh, easy! Harry Potter and The Half-Blood Prince!!! The object that helped me keep my cool during a scary period. *ahem* I love Harry Potter.
3. The last book you read

Charlie and the Chocolate Factory by Roald Dahl, haha! I wanted to read the book first before watching the movie. Both versions were equally entertaining in their own ways.
"Everything in this room is eatable. Even I'm eatable. But that is called cannibalism, my dear children, and is in fact frowned upon in most societies. " - the best line in the movie, in my opinion
4. 5 books that mean a lot to me


Hmmm... tough choices. In no particular order...
i.
Watership Down
by Richard Adams. Rabbit life never seemed more interesting and intriguing. A testament of good writing.
ii.
Harry Potter and the Sorcerer's Stone
by J. K. Rowling. I read this before HP was big in Malaysia and fell in love with it immediately. The book which introduced me to Harry's world, a world I love escaping to. My copy of this book is now considered 'lost', something I regret. Oh well. I'll just buy a new copy next year.
iii.
The Periodic Table
by Primo Levi. Do not be fooled by the boring sounding title. This is sort of an autobiographical account of Primo Levi, a Jewish Italian chemist during WWII. His profession and skills as a chemist kept him alive in Auschwitz. His life experiences are described in separate, stand-alone chapters, each named according to an element in the periodic table. It was interesting to read how each particular life experience would somehow have a connection with an element, whether the experience bore similarities to the element, or the element somehow played an important role. There's also a chapter written about Carbon in first-person account!
How did I get to know about this book? For those who did A-Levels Chemistry, this book was mentioned in the introduction of, surprise surprise, The Periodic Table chapter in
Chemistry in Context
. ;)
iv.
Great Expectations
by Charles Dickens. Of desires and expectations, this book is filled with memorable characters, dealing with issues which are still relevant today. There's a good dose of humour peppered throughout the book as well, making it an enjoyable read.
v.
Boy and Going Solo
by Roald Dahl. His children's stories are okay, his adult fiction is just awesome but it is his autobiographical works that made me fell in love with him. This book is a 2-in-1 edition, chronicling his childhood and his days as an RAF pilot. There's something so beautiful and touching about the simplistic way he wrote about his past. Mr Dahl has lead an extraordinary life. Reading this book had inspired me to want to do extraordinary things in my life and create memories worthy of a book like that.
5. Tag 5 people and have them fill this out on their blogs

Okay! I tag Raj, Adlina, Ken Lin, Ivy Lam and DrTS!!! Hehehe...
***
Suddenly I feel much better now. Not so frustrated anymore. :)
Tuesday, November 01, 2005
Forgotten Pictures
Was transfering the pics on my camera phone to my computer today
(must... take... a break... from studying... ugg...)
. Thought I'd share them with y'all... :)
***
Went to Sekinchan and Kuala Selangor for the first time. It was also my first time hanging out with Maosix and her best friends, Maohai and Milliemao. Riding a 'tramp' with them was so much fun. I had a blast of a time. :)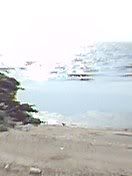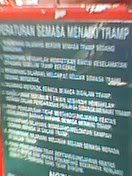 ***
I remember this. The orientation for M1/05. The crap they had to go through... literally.
*chuckles*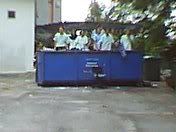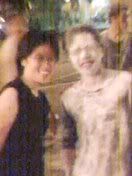 ***
This was the day when Ad and I decided to erm, appreciate the arts for a bit. We visited
Laman Seni
at the National Arts Gallery compound (every first Saturday of every month, 8am to 5pm) which is a bazaar of art works. After walking through the bazaar, we went for a rock show inside the Gallery.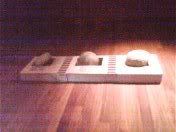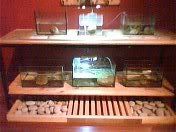 Modern art is so not for me.
At night, we went for a puppet theatre. It was an adaptation of Antoine de Saint Exupery's
The Little Prince
. I've never watched a puppet theatre before and I must say that I thoroughly enjoyed myself there. The story was simple, yet so beautiful. And it was only RM12 (student price)!!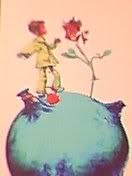 ***
IMU had a fire drill! Like, for real! Here are photographic evidences.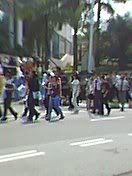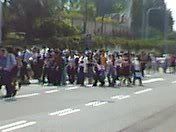 ***
An unintended science experiment from the fridge. :P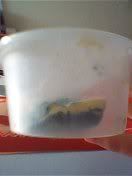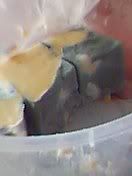 ***
Daniel coming for lectures in red-checkered shorts. TR made me take this pic!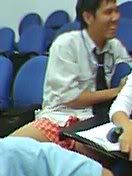 ***
This lizard was climbing the fence at the Bandar Tasik Selatan KTM Komuter station. Huge, innit?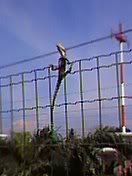 ... and this was taken at the Masjid Jamek LRT station. The old couple were holding hands. Isn't that the sweetest thing? :)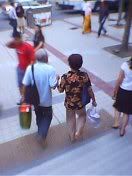 Ciao.