I Can't Deny The Fact That You Like Me! You Like Me!
"I went over to Yee Sin's place to settle some squash stuff. His place was full of cheerleading materials." (Ken Lin's explanation for glitter on her face)
"Hey, I need to go back to pass something to Ivy for a while."
"Oh, look who I bumped into at the lobby? Ken Lin!"
"Me as usual-
lah.
The two I dunno." (to my question, "Hey, where are you guys?")
"I went to settle my income tax stuff." (what Ken supposedly did on Friday afternoon)
"I want to go eat
mamak
in Subang!" (Prem's sudden weird craving)
Oh, the lies! The yarn they spun! Such fibs! But the worst part... I actually fell for each and everyone of them! And I did not suspect a thing. Not a word!
I went home on Friday night with Ken Lin and Prem. Prem supposedly desperately needed to empty her bladder so she entered the house first. After a while, she didn't come down. I thought she got lost in my room or something (I wouldn't put it past her :P). So I went up to my room, and found this...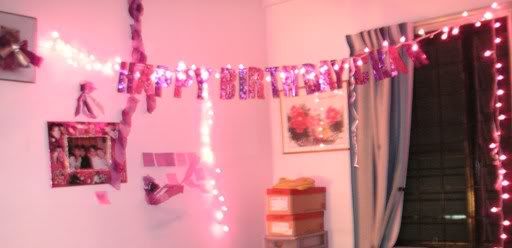 I was just stunned.
#1- It wasn't my birthday yet.
#2- I would expect them to do something at my Jalil Hill place, but definitely not here.
It was so beautiful. Purple and pink, such pretty colours. There were Post-It notes everywhere. On them were messages from my batchmates. And the homemade picture frames with various cut-outs were so lovely. The purple lights were so pretty (very nice to stone in :P).
I was speechless for a while. And then I cried. :P
Did you notice the "HAPPY BIRTHDAY CHAN" hanging across the room? It wasn't bought but
manually cut, each and every letter
. The glitter was manually applied on the letters and the picture frames. The streamers and crepe roses were hand-crafted as well.
They spent
4 hours
on a
hot
Friday afternoon- in a
non air-conditioned
room, where the
fan was not switched on
as well because the papers would fly away- decorating the room. Prior to that, they spent time cutting the decos and pics and applying glitter...
They spent more than 7 hours +++ working on this surprise instead of studying for NS and EoS!!!!!
This surprise meant a lot on that Friday, cos earlier that week, I was experiencing psycho mood swings and was getting upset and emo over the silliest things. I was afraid that it might affect our friendships... and then they sprang up with this.
My warmest thanks to (in no particular order) Sheena, Ken Lin, Prem and Nadia, for doing this for me. I'll never forget it. Especially since I've taken many photographs in various lightings ala CSI to document the night. :) You guys rock to the max and
know
that I love you all very, very much, okay?
As for those who wrote messages for me, thank you. They are treasured. I'll be keeping them in my diary. :)
Thank you for loving me.
And thank You, God, for Your blessings in life.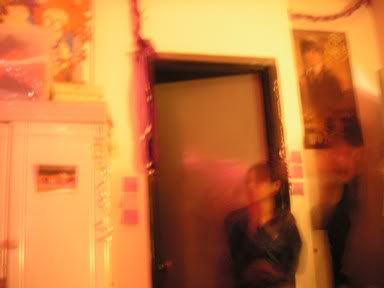 "Sini tak ada Ah Mooi!" :P

*** for those who don't get the meaning of the title, it was a part of actress Sally Field's Oscar acceptance speech. ;)