And He Leaps On Top Of The Podium Again!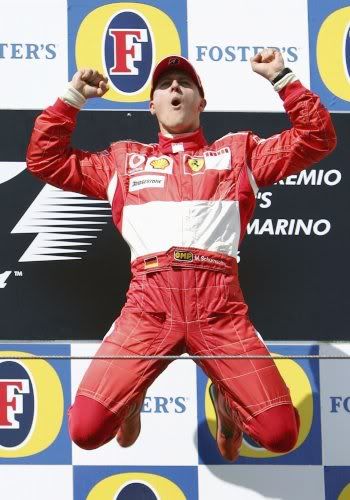 Whenever Schumi wins a race, he leaps with joy at the top of the podium, regardless if it was his 1st, 50th or 85th win, i.e. his latest win in San Marino yesterday. It was a fantastic race, plenty of excitement abound. The Renault car was clearly faster than the Ferrari but Schumi held him at bay with his sheer wit and experience. Oh, Alonso TRIED to intimidate Schumi by appearing in his side mirror oh-so-every chance that he could, but who was he kidding? You wanna pressure Schumi The King into making a mistake? Puh-leese!! But it sure made an entertaining watch, Alonso attempting to overtake Schumi. Alas, his attempt remained, an attempt. Muahahaha! My, it sure feels great to hear the familiar tunes of the German/Italian national anthems combo again, rather than the Spanish/French national anthems combo.
Kudos to Ferrari as well for coordinating such a brilliant 2nd pit-stop, putting Schumi right in front of Alonso and frustrating the fella until the end of the race.
Poor Button, though. What a comical pit-stop. And as for Kimi, I could only heave a sigh. When will he start winning races again?
Anyway, a race like this reminds me of why I fell in love with him in the 1st place, leading to this compilation, hehe:
Reasons Why Michael Schumacher Is My Hero and I Love Him
1.
He is hardworking.
A racing car could only improve with the driver's input and this man works extra hard testing and understanding the machinery he drives. He puts in extra testing hours, talks to the engineers to discuss on the various ways to improve the race car's performance.
2.
He is calm and focused.
As yesterday's race demonstrated, this man is not one to get distracted easily. In fact, his wife mentioned that he would ignore her even when she's calling him while reading newspaper, not because he's a jerk, but he just gets absorbed while reading. Unwavering focus in the heat of pressure. No stupid mistakes. That's the way to get a job done.
3.
He NEVER gives up.
Whether starting from the last position on the grid, or the Ferrari under-performing, this man does not give up easily. In races where he starts from less than favourable position, he fights till the very end to try win the race. Such stubbornness and determination. And when the Ferrari still have glitches to sort out, he just works extra hard to turn things around, instead of jumping ship. He helped turn Ferrari into a competitive team when he joined them back in 1997 and has been with them through thick and thin, especially last year's abysmal season (of course, his fat paycheck was a pretty decent motivation, hehe).
4.
He is humble.
Schumi is one of the highest paid athletes in the world. He is aware of his talent; yet, he is not arrogant. He never fails to thank the team whenever he wins a race and he treats his team very well. Even the lady who cooks for them. He took the trouble to learn Italian to chat with the lady, who speaks only Italian.
5.
He is professional.
He does not let his private life interfere with his work. During the weekend of San Marino GP 2002 (or was it 2001?), his mother passed away. Yes, it would be completely understandable if he didn't race that weekend. But it was an important race to win, in terms of Constructor's Championship points and for Ferrari (and its fans) morale. So he put his grief aside for 2 hours and won the race.
6.
He is passionate about his career.
He has raced and won so many races, yet his enthusiasm for the sport never waned. It's always a delight watching him giving his all to win a race, and he's always genuinely delighted with every win. Racing is not a chore for him - he enjoys racing immensely, and it's obvious. That's the way to do something for the rest of your life - something you love.
Dammit, he's already married with 2 kids. (By the way, he is a family man and loves them very much. Swoon...)
I hope to emulate all these traits, particularly Trait #5 as a future doctor. Because no matter what happens, the patients would always still need me to be there for them.
Michael Schumacher, my hero.