The Year That Was
"
It was the best of times, it was the worst of times, it was the age of wisdom, it was the age of foolishness, it was the epoch of belief, it was the epoch of incredulity, it was the season of Light, it was the season of Darkness, it was the spring of hope, it was the winter of despair, we had everything before us, we had nothing before us, we were all going direct to Heaven, we were all going direct the other way--in short, the period was so far like the present period, that some of its noisiest authorities insisted on its being received, for good or for evil, in the superlative degree of comparison only."

- Charles Dickens, A Tale Of Two Cities

And that, my friends, was 2005 for me. Dickens couldn't have put it better. So many lessons learned within 12 months. Lessons that no school could ever teach me, but only life. If someone is to ask me, which was your defining year? I would confidently say 2005. I've never cried so much, but I've never laughed so hard as well. The previous 21 years were... nice. But that's the problem with lukewarmness. Things somehow aren't as vivid unless you experience them to the extreme. That's what was different last year. I've experienced a whole range of emotions this year. And from anguish and pain to pure joy, I know I've never felt so alive.

To forgive and be forgiven. To be honest. To be true to myself. To find inner strength. To be not afraid to cry. To remain calm when surrounded with confusion. To surrender to God. To accept. To love and be loved. Unconditionally.

I am blessed. I am grateful for EVERYTHING that had happened to me in 2005. No regrets whatsoever.

Personal growth aside, Phase I has been good. My grades this year (Sem 4 and Sem 5) are somehow a reflection of my tumultous year but in the end, I pulled through when it mattered most. Going to IMU was one of the best decisions of my life. Dancing was the highlight back in Sem 1. But Futsal takes the cake for giving me the best IMU Phase I experience ever. It was through Futsal that I got to know many great individuals. And I actually got some exercise. :P I will never forget the various dinner parties we had, the things we did to survive exam stress, watching fireworks from the balcony, the stoning sessions...

Party of The Year: Definitely Post-IMU Ball Party 2005. I could see us still talking about it at our 10-year reunion.
Heheh. Heheheh.

But of course, the constant highlights of everyday are these: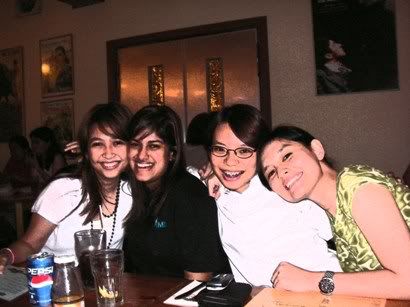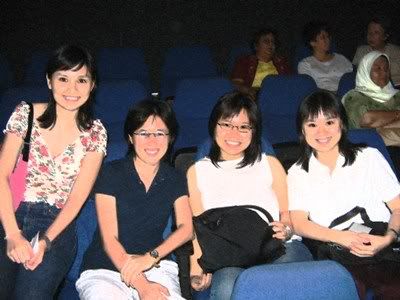 "Say goodnight, not goodbye
You will never leave my heart behind
Like the path, of a star
I'll be anywhere you are
In the spark that lies beneath the coals
In the secret place inside your soul
Keep my life, in your eyes
Say goodnight, not goodbye."
- Chantal Kreviazuk,
Say Goodnight Not Goodbye


Goodnight.